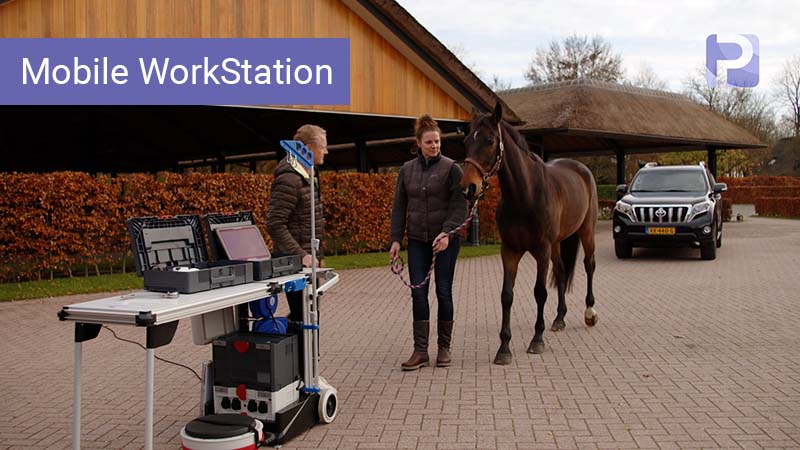 The mobile workstation is a sophisticated, compact, and flexible construction that creates optimal working space for every ambulatory professional.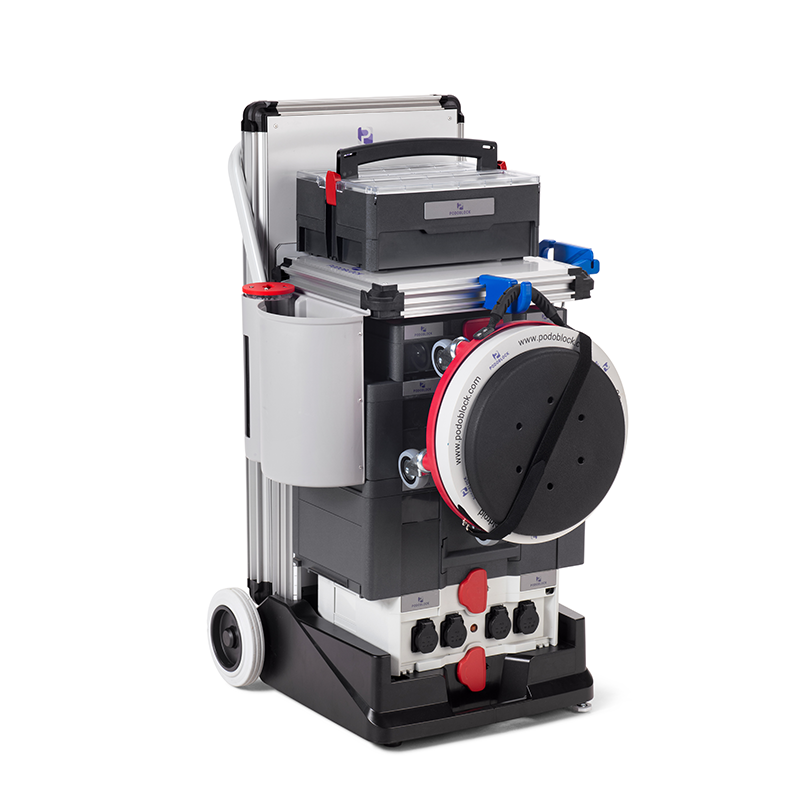 Features
Completely customizable

Numerous upgrades possibilities
Compact and solid
Benefits
Build the system you need to get the job done
Lightweight for easy transport
One man assemble and disassemble
Recommended combinations
To make it easy, we have compiled 4 configurations of the most purchased Mobile WorkStations.
Build your own mobile workstation in 4 steps
Configurations not meeting your needs? Build your own fully customized Mobile WorkStation in only 4 steps.
Step 1 – Start with a Base Element
Step 2 – Choose your upgrades
Step 3 – Choose your StorageBoxes and Drawers
Before choosing your StorageBoxes, there are three facts you need to know:
Fact 1- Twist&Lock knob
The boxes are designed to securely stack on top of each other with a Twist&Lock knob. The WorkStation's base element also has a Twist&Lock knob for securing boxes. The stacking possibilities are unlimited and create a perfect, uniformed and organized storage system.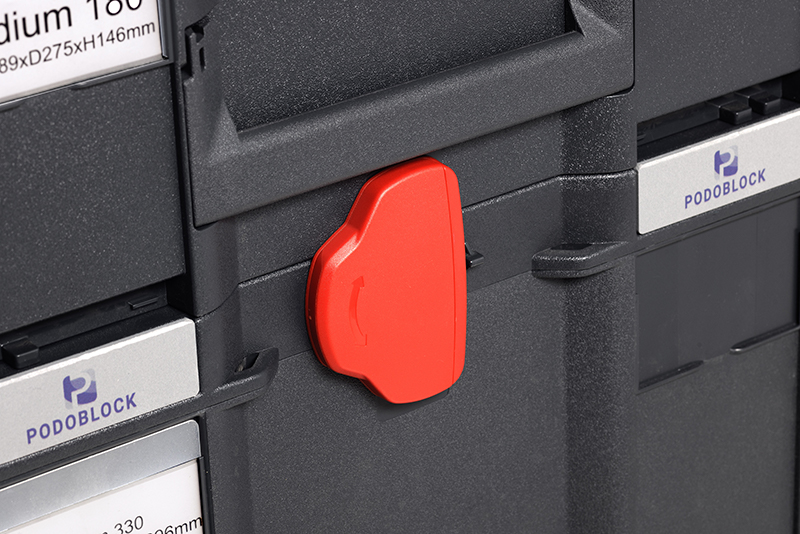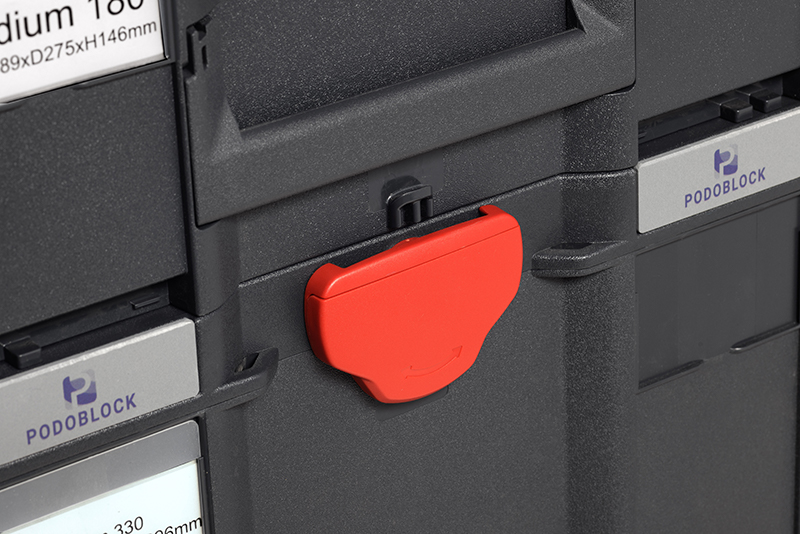 Fact 2- How many boxes fit on the Base Element?
You can stack up the StorageBoxes and Drawers to 68 cm high on the Mobile WorkStation. Need more boxes for your equipment? No worries, you can easily change boxes on the Mobile WorkStation. Another option is to take extra boxes to the mobile workplace on a Transport Base Element. For safe transportation, a Stationary Base Element is available which secures the StorageBoxes in the car.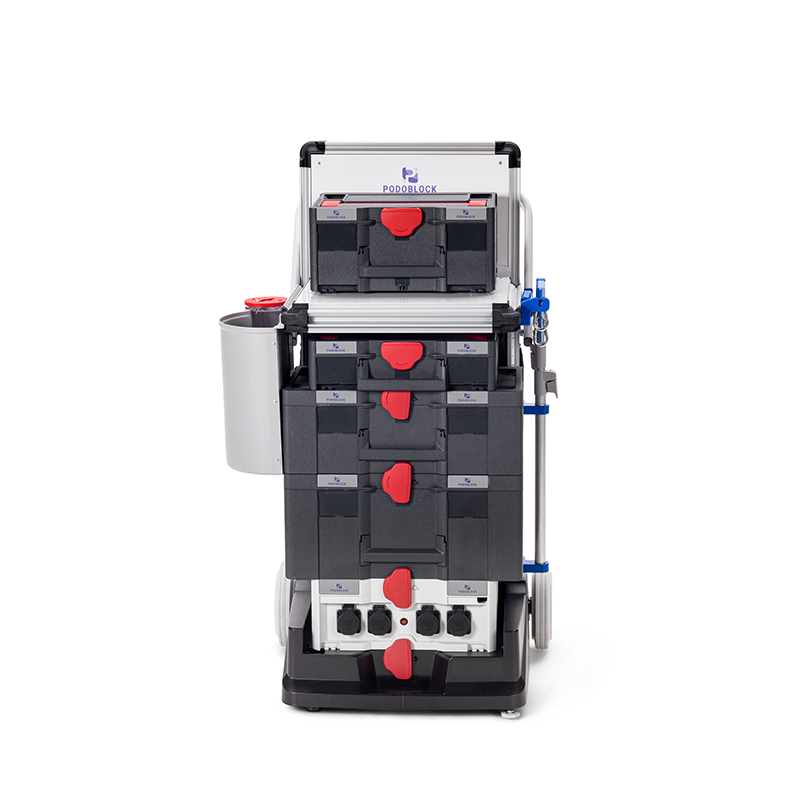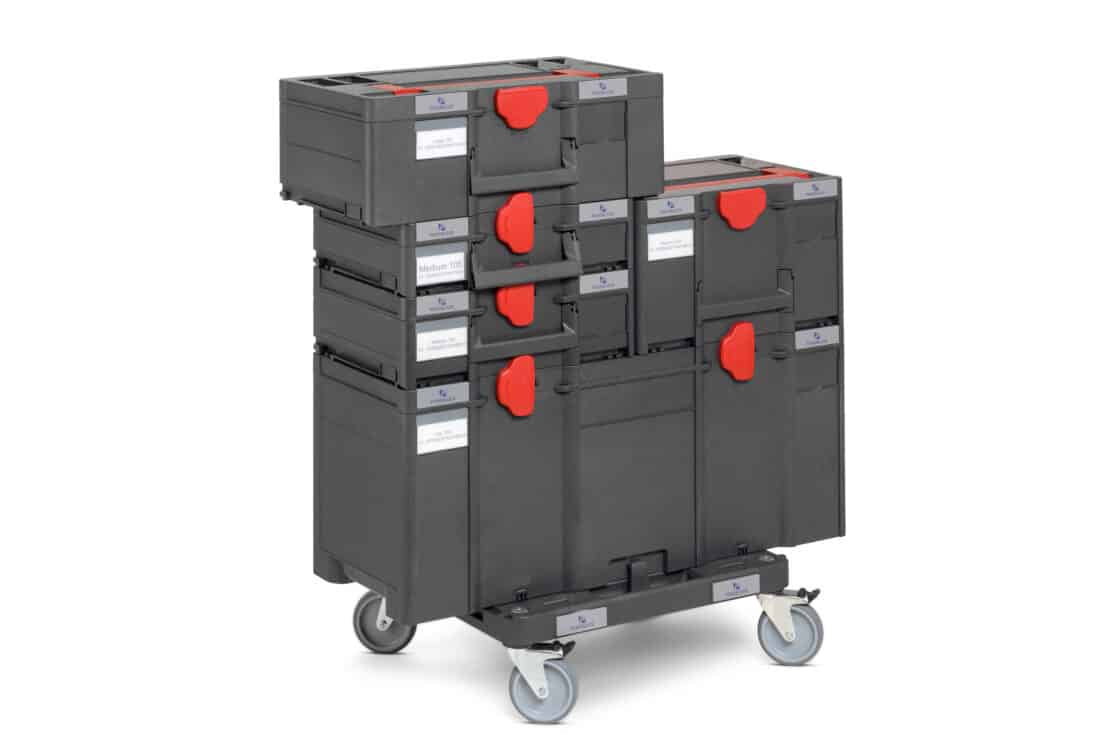 Fact 3 – Width of the boxes
The StorageBoxes come in 3 standard sizes Medium, Large and XXLarge. These sizes indicate the width of the box. Within the sizes, the boxes have different heights.
| | |
| --- | --- |
| M | W 15.6" x D 11.7" |
| L | W 20" x D 11.7" |
| XXL | W 31.2" x D 11.7" |
Notice On the Mobile WorkStation, the stack of boxes should always start with a M size because it fits perfectly on the black base. The XXL StorageBox version is specially made to store bulky items, such as boots, in the car. Or store extra equipment and only take the items you need. If you want to take the XXL StorageBox with you to your mobile workplace, using the Transport Base element is the best way to go.
Step 4 – Order your mobile workstation or request a demo
Would you like to see a demonstration to check out the possibilities of the Mobile WorkStation? You are always welcome to visit our workplace in Tynaarlo (NL), we can give a live online demonstration or we can look for a possibility to give a demonstration on location. Just make an appointment by contacting us.

Questions or need help?
Please feel free to contact us by phone or email.